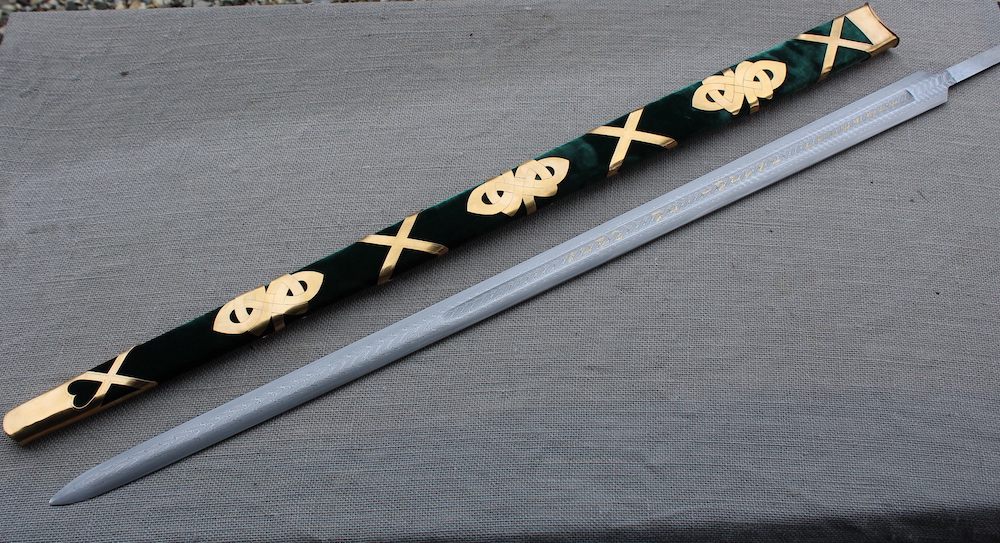 The Sword of Scotland - A strange Tale Or
The Sword that never was
Several years ago I was contacted by a Gentleman who wished to engage my services on the part of another Group of Gentlemen. This project was to create a Sword to commemorate the Diamond Jubilee of Queen Elizabeth II. However, the funding was pulled and the Project was shelved, and the World changed.
In October 2022 the same Gentleman got in touch to propose a new Sword of State for Scotland, partly because the original is 600 and some years old and falling to pieces and also because a suitable replacement would be needed for the Coronation of a new King. This was after all,an occasion. How could I say no?
I asked Mick Maxen to work with me again, this time to create a pattern welded steel billet with three twisted cores to represent the King, the Land and the People, and a lazy wave pattern around the edges to signify the sea around this group of Islands. Needless to say Mr Maxen did us proud and the end result is quite exquisite.
I then set to making a prototype blade first of all, to work in tandem with a sculptor who had been commissioned to make the hilt as a bronze casting, to be gilded. Once the pattern welded billet arrived I was able to reproduce the dimensions and begin work on the finished piece.The scabbard is poplar boards lined with felt and a covering of fine velvet stitched by Peta Grounds. I cut the complex fittings in copper before hot forming, engraving and then gilding. The lettering was tricky but I gold plated that onto the blade fullers. Nemo Me Impune Lacessit on the one side and on the other In My Defens God Me Defend. The letters sit into the pattern and give it a rich look of colour and contrast.
Some three weeks ago the commission was cancelled, and I was left with an almost completed Project, a diminished wallet and a lot of work hours to recover. I decided to go ahead and finish this job, with a view to making a Thistle and Crown themed guard and pommel in the future and finish the piece off to a fine standard. This is a Sword worthy of Scotland and a new King, now I just need to find the right Customer who will see the job completed.
I have now completed the piece with a thistle themed guard and crowned pommel. The Customer travelled from Colorado to pick up the work and also to greet his ancestor 'Wandering Angus' at the grave in Kilmuir,Skye.
Wandering Aengus is said to be the subject of the poem by WB Yeates, and ties in two stories with the central character falling foul of a King ;)
So there you have it…
The Sword of State. Or The Sword that never was.